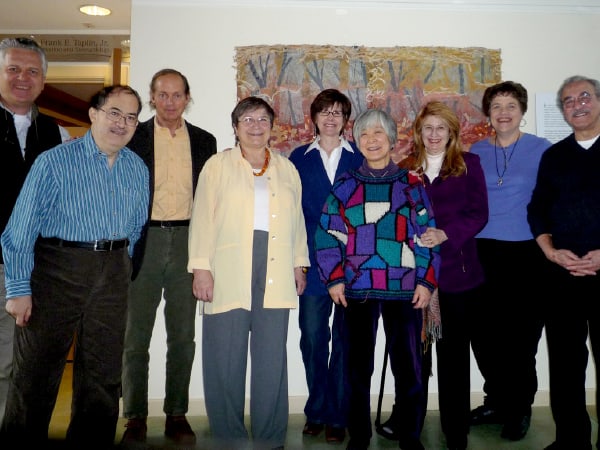 From right to left: George Cedeno, Architect, Emeritus Member; Katherine Kish, Vice President and Publicity Chair; Miriam Belov, CoLiason of New York project; Mira Nakashima-Yarnall, President and Treasurer, Creative Director, George Nakashima Woodworker, S.A.; Barbara Simmons, Fundraising Chair, Executive Director of The Peace Center, CoLiaison to Africa Project; Irene Goldman, Vice President, Liaison to Russia and Africa projects; Jon Yarnall; Kevin Nakashima; Julian Lines, Liaison of India and New York projects, Executive Director of Auroville International, President, Matagiri Sri Aurobindo Center. Absent: Dean James Parks Morton, Honorary Chair, Dean Emeritus of the Cathedral of St. John the Divine, Founder of the Interfaith Center of New York.
MIRA NAKASHIMA. Born in Seattle, incarcerated in Minidoka, Idaho in 1942, moved to New Hope, Pennsylvania in 1943, Mira attended New Hope-Solebury until High School, where she received her diploma from Solebury School. Graduating cum laude from Harvard University in 1963, she received a Masters in Architecture from Waseda University in Tokyo in 1966, married one of her classmates, Tetsu Amagasu, and has four children: Satoru, Maria, Shanti and Misha, plus six grandchildren so far. Mira returned to New Hope in 1970, began working part-time at Nakashima's, and took over as creative director of the woodworking operation when her father George died in 1990. She has been a member of the Foundation since its inception in 1984, and is now married to Jonathan Yarnall.
IRENE ETKIN GOLDMAN Chair of the Coalition for Peace Action and its NGO representative to the United Nations. She has served on boards such as: the NY Academy of Sciences' Committee on Human Rights of Scientists; the international women's club "Transfiguration", the first women's NGO in Russia, which she helped establish. At the invitation of George Nakashima she joined the Nakashima Foundation for Peace in 1989. Goldman is known for her work as a peace and human rights advocate. She has led international campaigns that secured the release of a chemical weapons whistleblower and other political prisoners in Russia; she has recovered Russian art collections stolen after exhibitions in Los Angeles, Houston, and New York. Among other honors, she was cited as one of the 100 "Women Peacemakers – Five Generations" by Peace Action; the Tribute to Women Award and the inaugural Fanny Floyd Racial Justice Award of the YWCA Princeton. She holds a BA from Douglass College, Rutgers the State University of New Jersey.
KATHERINE KISH is president of Market Entry, Inc., a strategic marketing and business development firm, working in the business and non-profit worlds specializing in launching or repositioning products, services, and enterprises. In addition to Market Entry, Kish is also Co-Executive Director of Einstein's Alley, an economic development initiative promoting Central New Jersey as the destination for technology based business. Kish is a fellow of Leadership NJ 2003, was named to the NJ Biz Top 50 Business Women in New Jersey and was honored as Woman of Distinction by the Girl Scouts and Humanitarian of the Year by a chapter of the American Conference on Diversity. She is active in and serves on boards of many civic and philanthropic organizations. She holds a bachelor's degree in history from Allegheny College and a master's degree from Antioch University, with additional graduate work at Williams College and the East West Center at the University of Hawaii.
MIRIAM BELOV, MAT, RMT is the founder of The Wellness Agenda LLC. For over 35 years she has been involved in mind body spirit work, creating programs for countless individuals and institutions – including The Metropolitan Museum of Art and The United Nations. With a dual Master of Arts from Brown University, Miriam teaches via the media, corporately and civically. Compelled by her passion, she has had several planetary passages to India, Israel and England. Due to her expertise and life experience, Ms. Belov has diverse professional exposure. She is an author, consultant and speaker who also often leads meditations. A certified Reiki Master Teacher, Miriam had her own radio talk show and created the dvd, "Relax…Feel Great! Stay Young" to help others. www.wellnessagenda.com Having known George Nakashima for many decades and deeply appreciating his great gifts and vision, Miriam is honored to be on the Board.
BARBARA SIMMONS is Executive Director of The Peace Center. She holds a BA in Archaeology from the Institute of Archaeology of London, England. She received certification in Conflict Analysis and Resolution; Restorative Justice, Basic and Advanced Community Mediation and School Peer Mediation Training; Family Mediation and Divorce Mediation; International Conflict Transformation; Conflict Resolution and Peace Education in Schools; Middle East Conflict Analysis; International Cross-Cultural Communication; Positive Approaches to Violence Prevention in Schools; Batterers Intervention; Creating Sanctuary; Racism, Power and Non-Violence; and Conflict Resolution and Analysis, Northern Ireland. Simmons is Executive Producer of PeaceTalks Radio Project and in that capacity has traveled to Europe, Japan, India, South Africa and the Middle East as well as Canada to produce audio documentaries. Ms. Simmons is also an adjunct professor for the International Peace and Conflict Resolution masters program of Arcadia University.
JULIAN LINES is on Auroville's International Advisory Council. He is Executive Director of Auroville International, on the Board of Auroville International USA and President of the Board of Matagiri Sri Aurobindo Center in Mount Tremper, NY. He and his wife, Wendy, own a boutique in Woodstock called Pondicherry.
KEVIN NAKASHIMA, born in Doylestown, PA, is the son of George Nakashima and co-owner of Nakashima Woodworker. He attended Solebury School and Sophia University in Tokyo, studying Far Eastern History and Japanese, as well as Tae Kwan Do Karate. He was George's apprentice and Marion's assistant book-keeper and caregiver. He is a member of the Japanese-American Citizen's League, Solebury Lion's Club and New Hope Historical Society.
JONATHAN YARNALL was born in Germantown of Quaker background, attended Germantown Friends School and Earlham College, where he majored in Political Science. He started as an assistant to the late master carpenter Robert Lovett, then apprenticed to the Austrian-trained Adam Martini in the Chair Department, where he has worked since 1974, and married Mira in 1985. He is s student of mysticism from Quakerism, Catholicism, Eastern Orthodox, Japanese Zen and Tibetan Buddhism to Sri Aurobindo, George's guru.