Dedication at The Cathedral of St. John the Divine
New York, NY • 1986
Dedication and Consecration of the first Peace Altar in New York City was performed on New Year's Eve by Dean of the Cathedral, the Very Rev. James Parks Morton, Honorary Chair of the Nakashima Foundation for Peace.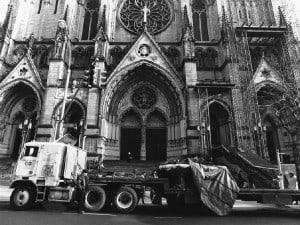 Delivery by flat-bed-truck to the front door of the The Cathedral of St. John the Divine. Nakashima had considered the United Nations as a possible site, but said its doors were too small!!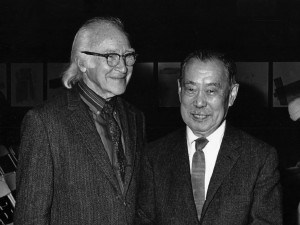 George Nakashima with his dear friend and supporter of his Peace Altar idea, George Wald, after arrival of the Altar at the Cathedral, a dream come true. Wald was a co-recipient of the "Nobel Prize in Physiology or Medicine" in 1967, for his work on mechanisms of vision and Higgins Professor of Biology Emeritus at Harvard University. George Wald later wrote colleagues in Russia on behalf of the Peace Table for Russia.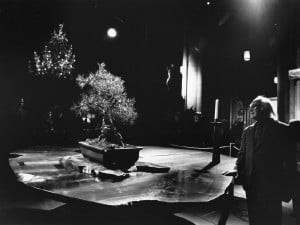 George Wald in The Cathedral of St. John the Divine, quietly contemplating the Altar with bonsai, candle, and Christmas tree in background.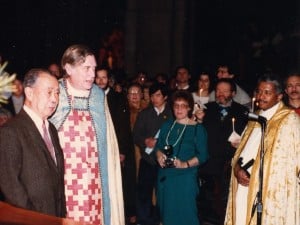 George Nakashima with the ecumenical Episcopal Dean James Parks Morton during the midnight dedication, with hundreds of candles held by participants.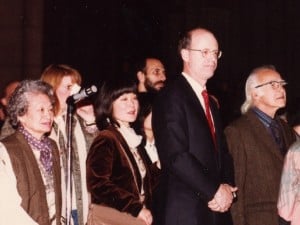 During the ceremony: From left, Marion Nakashima, Mira Nakashima, Steven C. Rockefeller, main benefactor of the Altar project, and George Wald, Nobel Laureate, and supporter of Nakashima's vision for peace.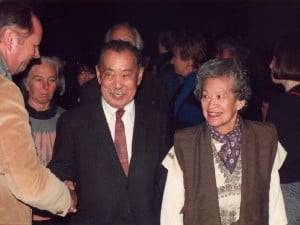 George and Marion Nakashima after the dedication. They had rented a tour bus to bring their friends to and from New Hope for the event, and celebrated at the Studio on their return.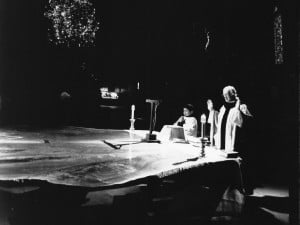 Celebrating Daily Mass (usually in Spanish) at the Peace Altar in The Cathedral of St. John the Divine after consecration and dedication.