Rededication at Cathedral of St. John
New York, NY • 2009
The Cathedral of St. John the Divine suffered a devastating fire in 2001, and all the artwork was put into storage while the interior was cleaned and restored. As part of the reopening of the Cathedral, the first Nakashima Altar for peace was re-installed and re-dedicated on June 7, 2009. This ecumenical celebration of peace and beauty opened with playing of the great organ while people gathered around the Altar. The Reverend Canon Thomas Miller welcomed all while Native American Tiokasin Ghosthorse played his spirit flute. Dean of the Cathedral, the Very Reverend Dr. James Kowalski spoke about the Altar as "A Prayer for Peace: a Dream for Humanity."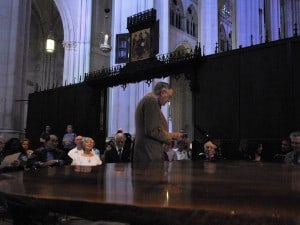 The renowned Scott McVay spoke with great insight and passion about "Out of a Dream: the Nakashima Altar of Peace" from the very beginning through its development to reality.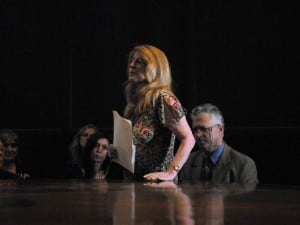 Miriam Belov with Julian Lines in background: Miriam Belov led all in a meditation and an offering of flower petals which her daughter, Madelaine Sara, had given to participants. Mira Nakashima spoke of her father and his living legacy.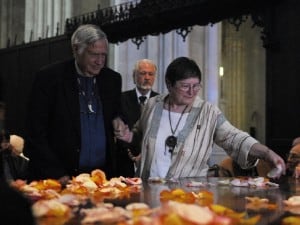 Dean Emeritus the Very Rev. James Parks Morton and Irene Goldman offering flower petals with Narad in the background: Dean Morton reflected on the original installation in 1986. Irene Goldman traced the history of the Sacred Peace Table in Russia and Julian Lines did the same for the one in India. Narad recited from Savitri, an epic poem by Sri Aurobindo, Nakashima's teacher.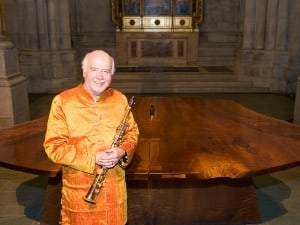 Cathedral Artist-in-Residence Paul Winter played his saxophone and was spontaneously joined by Tiokasin Ghosthorse on his flute, heightening the sanctity of the moment. The Rev. Canon Tom Miller closed the ceremony as bells rang throughout the Cathedral. In keeping with Nakashima's ecological embrace, the flower petals were later gathered and returned to the earth in the Cathedral Garden.