UN 50th Anniversary and Sacred Peace Table for Europe
New York, NY • 1995
At the suggestion of the Very Rev James Parks Morton, Dean of the Cathedral and Honorary Chair of the Nakashima Foundation for Peace, the second altar-table, a Sacred Peace Table intended for Russia, was built in 1995 and consecrated near its twin at the Cathedral of St. John the Divine, in a propitious gathering of peoples of all races, nations, and faiths, commemorating the 50th Anniversary of the United Nations, fulfilling another phase of George Nakashima's dream.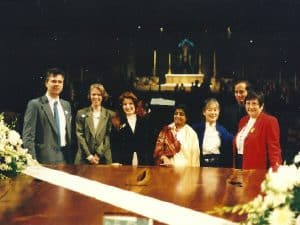 Board members and friends gather: Julian Lines, Barbara Ford, formerly of the Asian Art Department of The Metropolitan Museum of Art, Miriam Belov, Meenakshi of Auroville, Mira Nakashima, Jonathan Yarnall, Irene Goldman.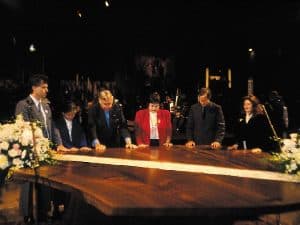 Dean James Parks Morton consecrating the Sacred Peace Table with (from left) Board members Julian Lines, Mira Nakashima, Irene Goldman, Jonathan Yarnall and Miriam Belov.