Dedication at The Cathedral of St. John the Divine
New York, NY • 1986
Dedication and Consecration of the first Peace Altar in New York City was performed on New Year's Eve by Dean of the Cathedral, the Very Rev. James Parks Morton, Honorary Chair of the Nakashima Foundation for Peace.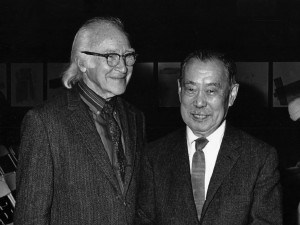 George Nakashima with his dear friend and supporter of his Peace Altar idea, George Wald, after arrival of the Altar at the Cathedral, a dream come true. Wald was a co-recipient of the "Nobel Prize in Physiology or Medicine" in 1967, for his work on mechanisms of vision and Higgins Professor of Biology Emeritus at Harvard University. George Wald later wrote colleagues in Russia on behalf of the Peace Table for Russia.