Peace Concert and Award Presentation
New Hope, PA • 2011
On a beautiful Sunday afternoon, Tim Farrell, presented a concert as a benefit to support the work of the Nakashima Foundation for Peace. With humor and skill, he performed his own compositions and arrangements, using his incomparably intricate finger-style techniques which resonated warmly in the hearts of the audience and the space of Nakashima's Hyperbolic Paraboloid Arts Building.
He played his limited edition C.F. Martin George Nakashima Commemorative Guitar and alternated with two other guitars, each with various tunings and sonorities. Among the works played were "Joyride to Tranquility", "Rosewood Alley" and the grand finale "Wind at My Back" in which the guitar became a percussion instrument. 
The concert was followed by a short meditation for peace by Miriam Belov and presentation of awards from the Russian Academy of Arts by Irene Goldman.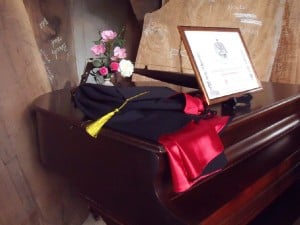 George Nakashima's Award, Cap and Gown at home in the Nakashima Foundation for Peace Arts Building in New Hope. Translation of Award text: 
Russian Academy of Arts
By Decision of the Praesidium,
27.09.2011
Inducted as Distinguished Member of the Academy
George Nakashima
Signed by
Academy President, Z.K. Tsereteli and Academy First Secretary, O.A. Koshkin