Moscow Dedication
Moscow, Russia • 2001
Consecration and Presentation of the Sacred Peace Table at the Russian Academy of Arts, Moscow.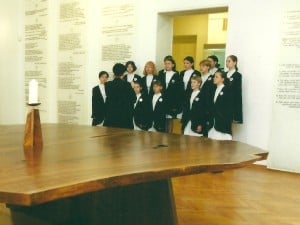 Angelic a capella voices of the Moscow Girl Choir "Vera" welcomed participants to the ceremony. Sayings of peace by elders from all over the world were printed on floating banners surrounding the room, along with photographs documenting the construction of the Sacred Peace Table and the first Peace Altar in New York.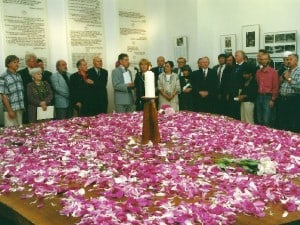 Yuri Orekhov, Vice President of the Russian Academy of Arts, a renowned sculptor who admired George Nakashima since their meeting 1989, addresses the gathering joined by fellow Academicians, US Ambassador to Russia James Collins and members of the Nakashima Foundation around the Sacred Peace Table strewn lovingly with peony petals.