Nakashima: National Historic Landmark Plaque Dedication and 110th Birth Year Celebration
June 14 • 2015

Joining George Nakashima's great grandson, Toshi Amagasu, in unveiling the historic plaque are Nakashima Foundation for Peace Board Members and Speakers for the occasion.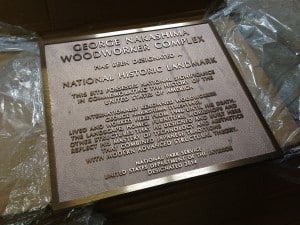 Celebrating the 110th birth year of George Nakashima and the dedication of the National Historic Landmark plaque deserved cake and champagne. And that is exactly what everyone got who joined us for this festive day! Over 100 people gathered in the Arts Building on June 14th to participate in the Nakashima Foundation for Peace historic commemoration and fundraiser. Those who braved the hot and humid weather were treated to an afternoon of culture, historic import, and celebration.
We were welcomed by Mozart duets performed live on flute and violin. Mira Nakashima opened the afternoon by introducing the Mayor of New Hope, Larry Keller. He gave an entertaining talk about the area, and how George and Marian Nakashima always supported community events.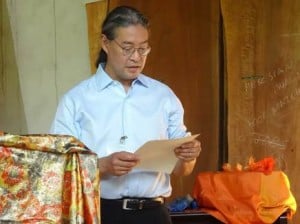 Ru Amagasu, Nakashima's grandson, read a quote from George's book, "Soul of A Tree" about settling in New Hope: "To settle on a piece of virgin land was for me the culmination of a long quest… Our land … has become the core of our existence."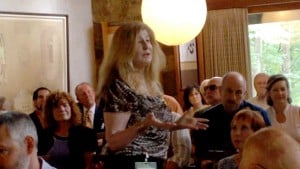 Nakashima Foundation for Peace board member, Miriam Belov then led all in a meditation. In the late 1930s in India, Sri Aurobindo gave Nakashima the name of Sundarananda, "One who delights in beauty", and he considered himself a karma yogi devoted to creating works of beauty out of wood.
George fulfilled his prophetic name and is internationally lauded as a great American artist. At the end of his life, Nakashima's vision was to uplift Beauty to the service of Peace through his unique vision of Sacred Tables and Altars for Peace on each continent – creating the first for North America in New York City; the second for All Europe in Moscow, Russia; the third for South Asia in Auroville, India.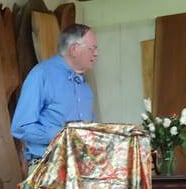 Scott McVay – former head of the Dodge Foundation and prime mover of its poetry festival, past president of the Chautauqua Institute and remarkable personality – gave a tender remembrance of his long-time friend George Nakashima – including his vision from 1984."A while back there appeared a great bole of a tree, a Walnut…In a small but firm voice the bole asked to be realized…Gradually a few people became interested in the project and suggested we make six Altars – one for each continent. It will be a symbol, a token of man's aspirations for a creative and beautiful peace… Enthusiastic contagion would be useful, as peace, the world over is uppermost in our consciousness. It must be a joyous peace, not a fear or absence of war…."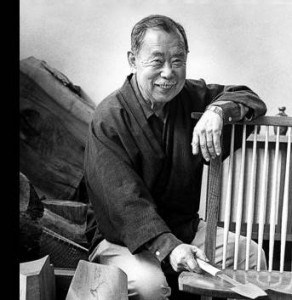 Additional remarks about the cultural and architectural significance of the property were given by: Richard Mei, an American diplomat who held a post at the United States Embassy in Tokyo, Japan; and Frank Hayes, the associate director, northeast region of the United States National Park Service.  After having toasted Nakashima's life and many accomplishments with sparkling champagne – reminding us of the ever present sparkle in George's eye – all then moved out onto the grounds. Our plates were filled with a cornucopia of desserts, including the delicious birthday cake, one of his favorites.
Nakashima said about his vision for global peace that his life was surrendered "… to the Divine Consciousness to end in a most beautiful aura of love."